Contact XAGY
Hotline:0086-29-33669103
Fax:0086-29-33698670
Email:sales@xagy.cn
Location:No. 88 East of Century Avenue, XianYang, Shaanxi, China. P.C. 712046
About XAGY
XAGY Special Alloys Corporation (XAGY) was established in 1993, with a company mission to provide a high quality, reliable source for precision alloys, high temperature alloys and stainless steels in both pilot processing and mass production. Pilot processing includes the melting, remelting, hot working, cold working, and finishing of small volume (100 kg) specialty alloys with specified or unique compositions. Benefits of pilot processing to our customers include reduced lead time (1-4 weeks), reduced cost and tailored chemistry.
The company was certified by the ISO9001-2008 quality system in June 2005 and it was certified as a high-tech enterprise by Shaanxi Provincial Department of Science & Technology. In the same year, Shaanxi Provincial Development and Reform Commission identified the major businesses of the company as the industries that China mainly encourages and develops. Now our company has formally marketed in China's new stock market, stock No. 836660.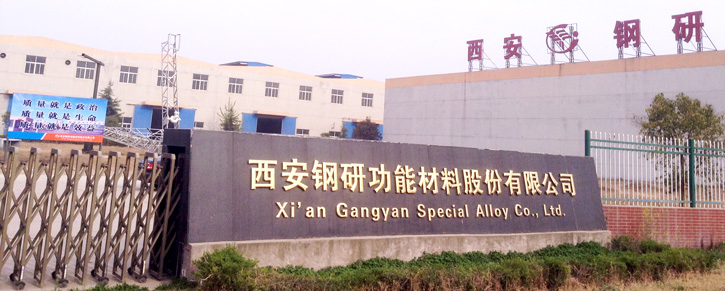 XAGY products
Xi'an Gangyan Special Alloy Co., Ltd, has been committed to the R & D and production of precision alloy (Metallic functional materials), High temperature alloy and stainless steel for military use, which provides domestic and foreign customers with quality products that strictly conform to the national standard of China as well as standards of other countries like America. Among all its products Kovar、Invar、Super Invar and Ceramvar、Hiperco 50A、HiperCo27、Permalloy、Vicalloy、Comolloy、Axle-center、Elgiloy、Ni-span、L605、Inconel601、Inconel718、0Cr18Ni9Ti、Magnetic Core are widely recognized by customers. The company has altogether more than 280 employees, including 30% of technicians and 51 with senior technical titles.
XAGY development
Throughout our 23+ years of service, XAGY has become a valued resource for distributors and end users of precision alloys at home and abroad. Large customer base has been accumulated through quality service to research institutions, national laboratories, universities, and manufacturers within aerospace, military, electronics, marine, petroleum and petrochemical industries. To pursue excellent and surpass oneself is what XAGY has been striving for. We always follow the principle of "quality and technology first, sincere service and observing the contract" and try our best to develop XAGY into a metallic functional material manufacturer with core competitiveness and continuous capabilities of growth so as to provide all our customers with more and better services and products.