Super Alloy Elgiloy Co40CrNiMo UNS R30003
Super Alloy Elgiloy (UNS 30003)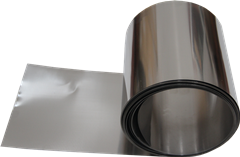 Super alloys are widely used in numerous industries to make components such as gas turbine engines, rocket motors, nuclear reactors, submarines, and petroleum equipment. Super alloys perform exceptionally in high temperature environments.
Super alloy Elgiloy is a cobalt-chromium-nickel alloy, and provides high strength, fatigue life, ductility, and good mechanical properties. It is also corrosion resistant in various environments. It is recommended that forming should be done before heat treatment as heat treatment strengthens the material and makes it more difficult to form.
We are specialize in super alloy Elgiloy for more than 25+ years. Supply capacity 2650Kg monthly, and available forms in Strip ,wire ,plate,Rod.
More information please send a quote !